Tree Information
Common Name: yellow buckeye
Scientific Name: Aesculus flava
Native/Naturalized: Native to Virginia
Database ID: 1245
Status: alive
National Champion: yes
Virginia Champion: yes
Circumference: 295 in.
Height: 81 ft.
Crown: 56 ft.
Points: 390
Date Last Measured: 2017
Last Measured by: David Formella, Harry Van Guilder, and Eric Wiseman
Date First Measured: 2007
Comments: This tree was declared a national champion in 2007. The property it occupies was acquired in 1970 by the US Forest Service. The trunk is hollow with an opening on the south side with room for about 3-4 people to stand inside. The tree has to be periodically monitored for an assortment of vines that want to creep up its trunk. There has also been an assortment of volunteer trees that have sprouted around its base, including boxelder and hackberry. Tree is in a relatively protected location.

2017 update: The canopy is very thin and the crown has lost significant branches over the years. Its survival is quite tenuous. Score has decreased, likely due to an overestimate of height in 2007 (laser hypsometer used in 2017) and decline of crown spread due to competition from invasives.

Greatest size: 296" circumference, 94' height, 69' crown, and totaling 407 points.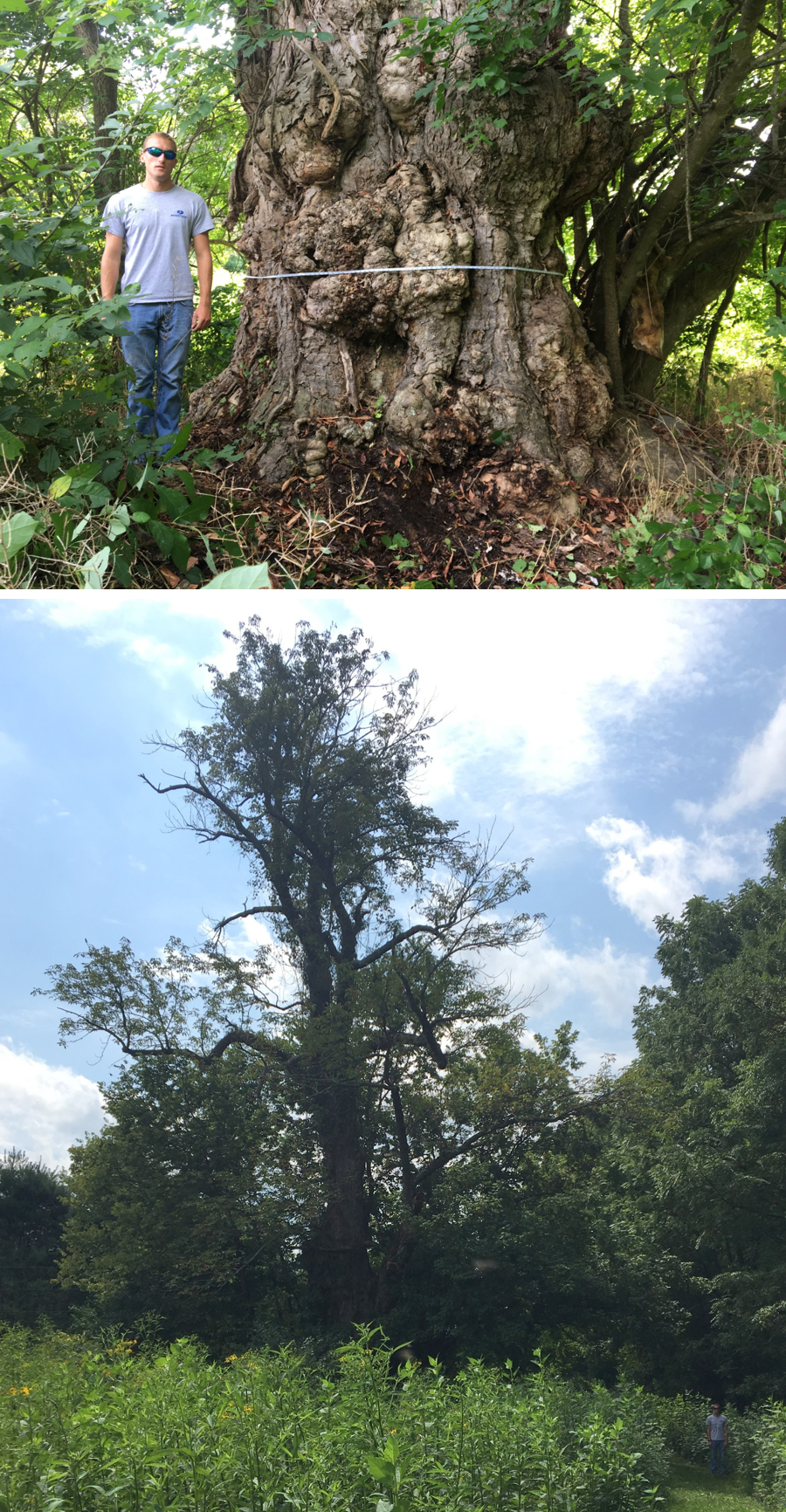 Eric Wiseman Aug-17
Location of Tree
Tree is located in: Alleghany
Land Owner: U.S. Forest Service
GPS Coordinates: 37.79303, -79.759237
Owner Email: Mailroom_R8_George_Washington_Jefferson@fs.fed.us
Directions: James River Ranger District. Just east of Iron Gate, near the confluence of the Cowpasture River and James River, where state route 633 crosses over the Cowpasture River. Tree is situated right next to a parking area for public access to the river (Evans Tract Boat Ramp).
Owner Address: 810A East Madison Street

Covington, Virginia 24426
Owner Phone: 540-962-2214
Contact Information
Contact Name: Dan Miles
Contact Email: miles.d@lynchburg.edu
Contact Address: Claytor Nature Study Center, Lynchburg College

Contact Phone: 434-661-8362
Contact Info: Previous contact and measurer: Keith A. Carson, PhD Land Steward Allegheny Highlands Office The Nature Conservancy, Virginia Chapter 12181-A Courthouse Hill Rd. Warm Springs, VA 24484 540-839-3599 kcarson@tnc.org
Nominators
Original Nominator(s): Dan Miles
Additional Information