Tree Information
Common Name: osage-orange
Scientific Name: Maclura pomifera
Native/Naturalized: Native to North America
Database ID: 199
Status: alive
National Champion: yes
Virginia Champion: yes
Circumference: 328 in.
Height: 65 ft.
Crown: 93 ft.
Points: 416
Date Last Measured: 2017
Last Measured by: Eric Wiseman and David Formella
Date First Measured: 1970
Comments: One of the most revered trees in the Virginia Big Tree Register. This tree has been the national champion at one time or another for nearly 50 years. Recognized in 2019 as the national co-champion, sharing title with a tree in Delaware.
Located on the grounds of the Patrick Henry National Memorial, owned by the Patrick Henry Memorial Foundation. Patrick Henry purchased Red Hill Plantation at his retirement in 1794 and occupied it until his death in 1799. The tree is rumored to be over 300 years old and a favorite resting spot of Patrick Henry in his retirement years, but there is no documentation of the tree's age.

Due to the tree's atypical trunk comprising multiple stems, it was remeasured in 2017 under the advisement of American Forests using an alternative trunk measuring technique. As a result, the tree decreased in points from 431 to 416. Documentation of these measurements is on file with the VA Big Tree Program. A group of arborists from Virginia Tech and the Lynchburg area donated a day of service for the tree in October 2017 to prune the tree, service the support cables, and upgrade the lightning protection system.

More Photos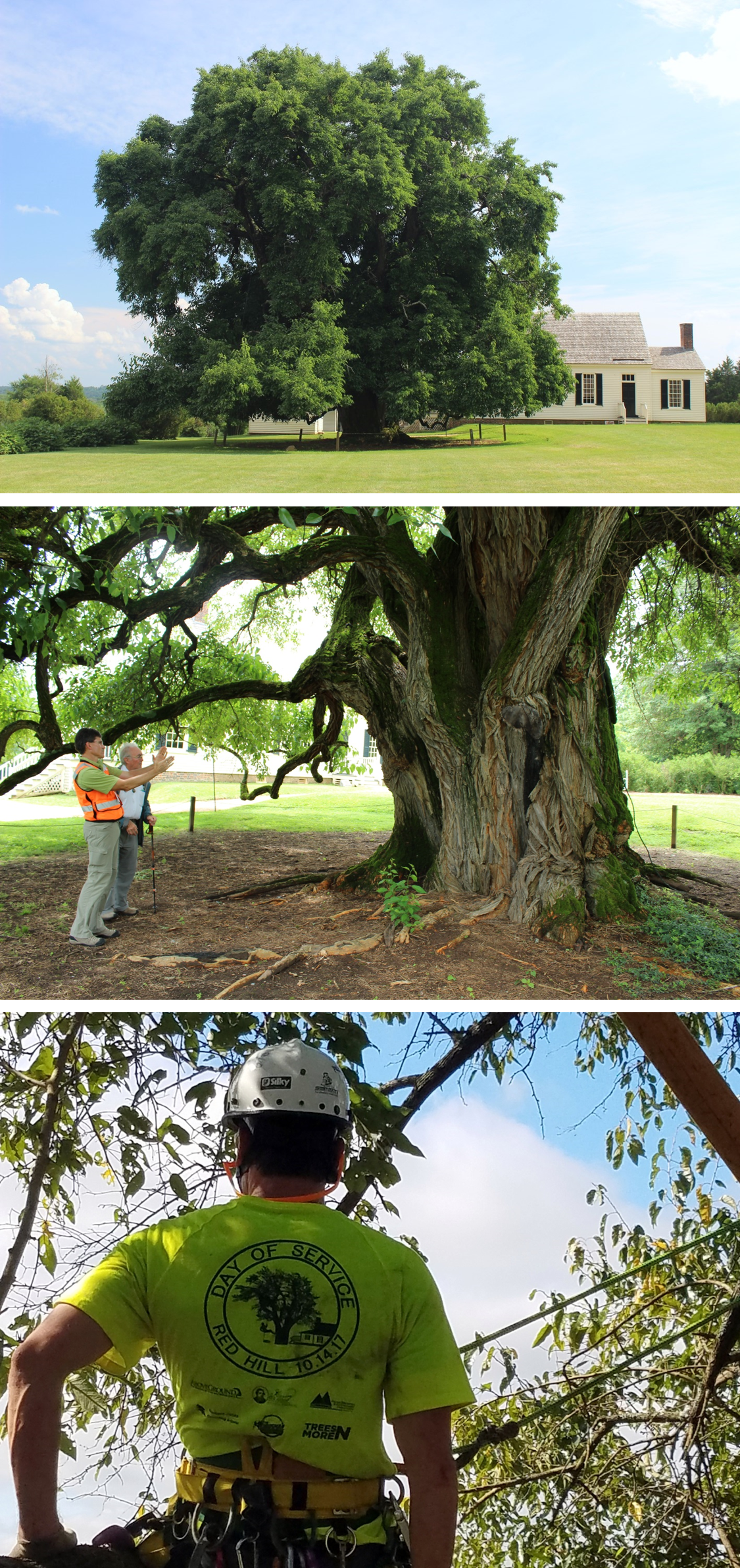 Top photo Alex Cassell (2016), Bottom photos Eric Wiseman (2017)
Location of Tree
Tree is located in: Charlotte
Land Owner: Patrick Henry Memorial Foundation
GPS Coordinates: 37.03243, -78.89777
Directions: Actually located "behind the house" because the original entryway to the house was from the Staunton River. However, the tree now appears to be "in front of the house" because it is conspicuous as you approach the house from the visitor's center.
Owner Address: 1250 Red Hill Rd

Brookneal, VA 24528-3302
Owner Phone: 434-376-2044
Contact Information
Contact Name: Hope Marstin
Contact Email: om@redhill.org
Contact Address: 1250 Red Hill Road

Brookneal, VA 24528-3302
Contact Phone: 434-376-2044
Contact Info: Eric Wiseman, Virginia Big Tree Program Coordinator, pwiseman@vt.edu
Nominators
Original Nominator(s): Mabel O. Bellwood
Other Nominators: John McCormick
Additional Information