Tree Information
Common Name: poison sumac
Scientific Name: Toxicodendron vernix
Native/Naturalized: Native to Virginia
Database ID: 2310
Status: alive
National Champion: yes
Virginia Champion: yes
Circumference: 22 in.
Height: 18 ft.
Crown: 16 ft.
Points: 44
Date Last Measured: 2014
Last Measured by: Landon Webb
Date First Measured: 2014
Comments: Declared national champion in 2020. Tree appears to be in good health.

More Photos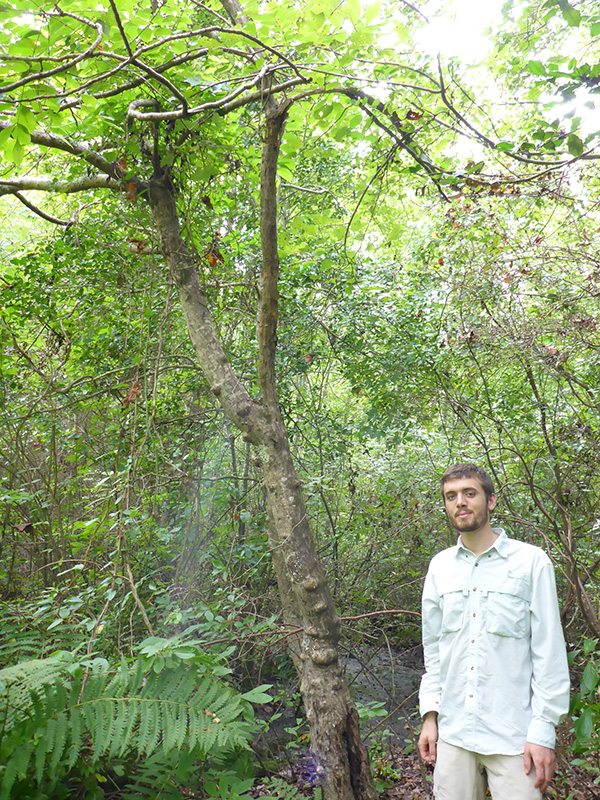 Landon Webb 2014
Location of Tree
Tree is located in: Caroline
Land Owner: United States Army
GPS Coordinates: 38.075097, -77.32827
Owner Email: jason.r.applegate.civ@mail.mil
Directions: This site is not readily accessible to the public. The tree is growing in a swampy area along a power-line right-of-way on Fort A.P. Hill. Precise GPS coordinates are on file. Approximate GPS listed here. Turn into the North Gate and take your second right. Go to the end of that road (no name) and turn left down the gravel road that runs alongside the motor pool. Turn left and walk down the power-line until you hit the swampy area. Start looking for the tree on your left. Access to this area is restricted. Visitation is generally prohibited and re-measure will need to be coordinated through Jason Applegate, or Fort A.P. Hill Forestry.
Owner Address: Bldg 308 13832 Anderson Camp

Fort A.P. Hill, VA 22427
Owner Phone: 804-633-8465
Contact Information
Contact Name: Jason Applegate
Contact Email: jason.r.applegate.civ@mail.mil
Contact Address: 19952 N. Range Road

Bowling Green, VA 22427
Contact Phone: (804) 633-8465 or (8
Contact Info: Beth Cantrell Phone number: (804) 633-8503 Email address: Beth.m.cantrell.ctr@mail.mil
Nominators
Original Nominator(s): Brian Josey, Stefanie Ferrazzano
Additional Information