Tree Information
Common Name: pignut hickory
Scientific Name: Carya glabra
Native/Naturalized: Native to Virginia
Status: alive
Virginia Champion: yes
Circumference: 132 in.
Height: 132 ft.
Crown: 85 ft.
Points: 285
Date Last Measured: 2020
Last Measured by: Landon Webb and Beth Cantrell
Date First Measured: 2020
Comments: The tree appears healthy. Height measurement in field with laser rangefinder was checked against LiDAR data acquired in the last decade. LiDAR height was 125'. Rangefinder was used from 4+ directions, good line of sight was obtained, and it is believed to be the more accurate measurement.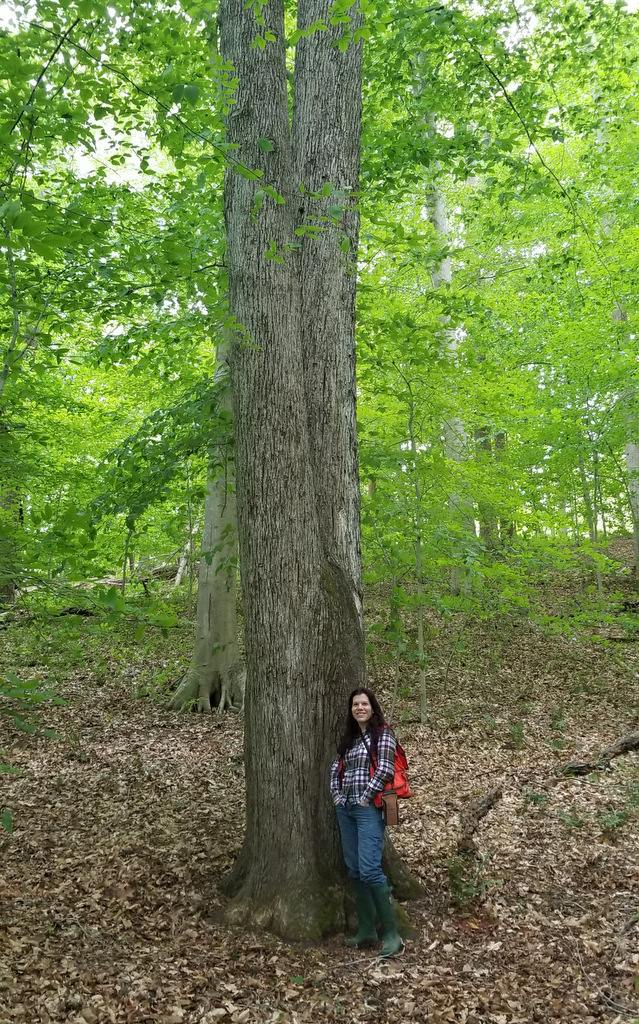 L. Webb May 2020
Location of Tree
Tree is located in: Caroline
Land Owner: United States Army
GPS Coordinates: 38.161445, -77.283311
Owner Email: jason.r.applegate.civ@mail.mil
Directions: The tree is located in the woods of Fort A. P. Hill in Training Area 19C. Near 19952 N. Range Road Bowling Green, VA 22427. It is 200 feet west of the pond, following the stream channel. Access to this area is restricted. Visitation is generally prohibited and re-measure will need to be coordinated through Jason Applegate, or Fort A.P. Hill Forestry.
Owner Address: Bldg 308 13832 Anderson Camp

Fort A.P. Hill, VA 22427
Owner Phone: 804-633-8465
Contact Information
Contact Name: Jason Applegate
Contact Email: jason.r.applegate.civ@mail.mil
Contact Address: 19952 N. Range Road

Bowling Green, VA 22427
Contact Phone: (804) 633-8465 or (804) 633-8409
Contact Info: Beth Cantrell Phone number: (804) 633-8503 Email address: Beth.m.cantrell.ctr@mail.mil
Nominators
Original Nominator(s): Beth Cantrell
Additional Information