Tree Information
Common Name: downy serviceberry
Scientific Name: Amelanchier arborea
Native/Naturalized: Native to Virginia
Status: alive
Virginia Champion: yes
Circumference: 108 in.
Height: 36 ft.
Crown: 43 ft.
Points: 155
Date Last Measured: 2021
Last Measured by: Eric Wiseman
Date First Measured: 1986
Comments: This tree was a national champ in 2008, but a larger one was found. It was originally nominated by Louise Hoge around 1986, with measurements verified by forester Rodney Keinon. Those measurements were 85", 45', 49', 142 points. Identity of this tree as A. arborea is not 100% conclusive. Buds, emerging leaves, and flowers should be examined in early spring to conclusively differentiate it from A. laevis.

Measured in 2006 by J. Kirwan at 100", 44', 44', 155 points. Measured in 2015 by J. Matiuk and J. Blankenship at 104", 46', 43', 161 points.

2021 update: Tree had a quite full canopy for end of August. Only one small branch was wilted with dead foliage. The top of the main leader broke out of the tree many decades ago and has slowly deteriorated since then. Decay from the broken leader has slowly spread down the south side of the trunk.

A secondary leader stood at the peak of the crown for many years afterward, but it has declined over the past 10-15 years and is heavily decayed with large woodpecker cavities. Several lateral branches emerging from the base of the declined leader have developed into a retrenched crown that is fairly symmetrical. A low branch at the base of the crown sweeps downward and nearly touches the ground on the east side. The tree appears sturdy for now, but the whole crown will likely fail under its own weight or inclement weather due to the progressing decay on the trunk from the broken main leader.

More Photos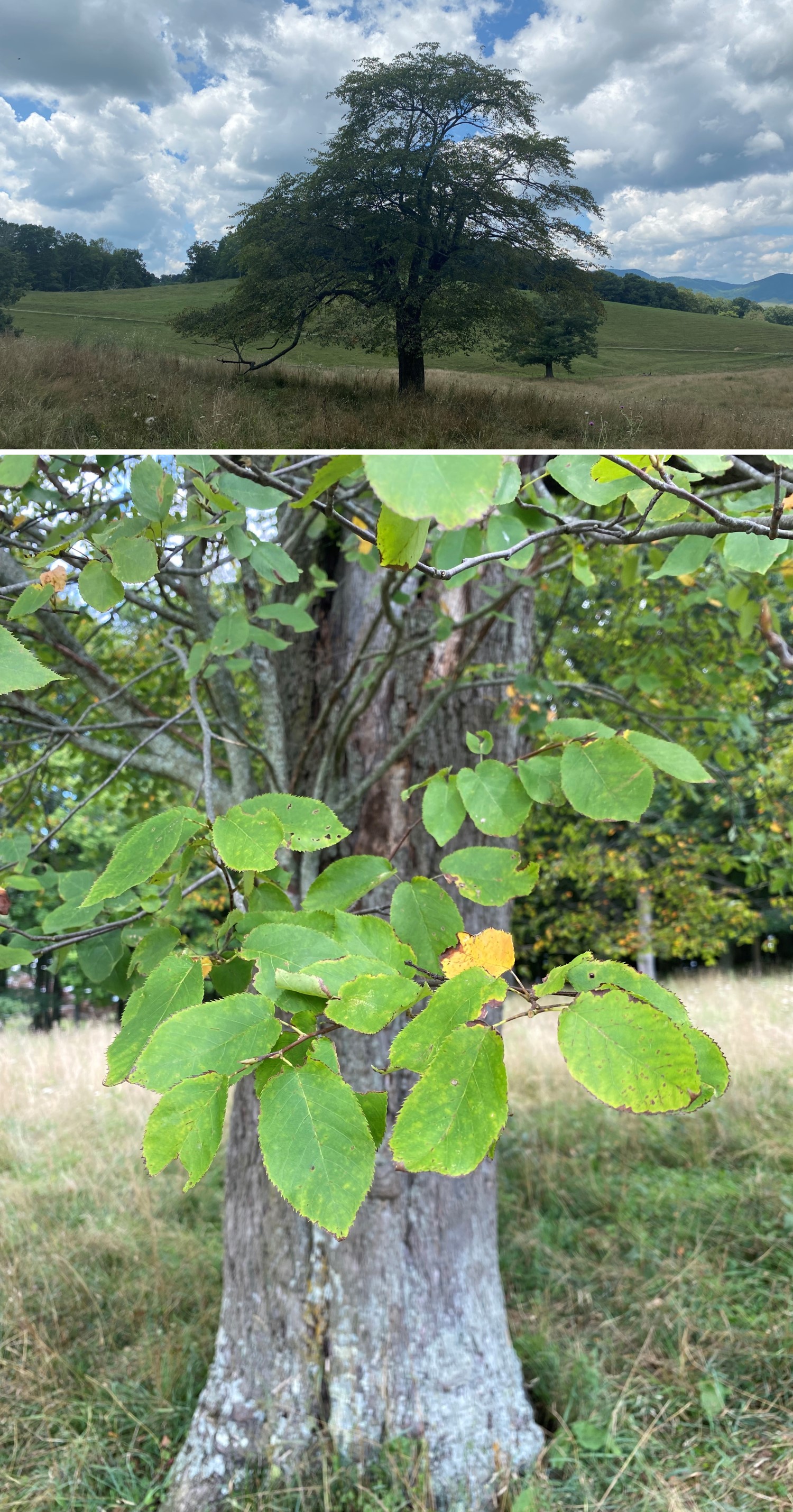 E. Wiseman. August 2021.
Location of Tree
Tree is located in: Tazewell
Land Owner: Kent Hoge
GPS Coordinates: 37.098925, -81.317334
Directions: Take state route 625 west to Hoge Lane. It is a gated farm road that can only be accessed with permission of the owner. Follow farm road to the north toward the old Hoge Farmstead. Tree is in a pasture on the right side of farm road near large timber and the site of an old log cabin.
Owner Address: 1101 Banks Ridge Road

Tazewell, VA 24651
Owner Phone: Private
Contact Information
Contact Name: Kent Hoge
Contact Address: 164 Hoge Lane

Tazewell, VA 24651
Contact Phone: Private
Contact Info: Kent is Louise Hoge's son. Alternative contact: John Blankenship, jblanken@vt.edu, 276-385-1812. John is VCE Unit Coordinator and excellent local guide.
Nominators
Original Nominator(s): Louise Hoge
Additional Information